Greetings in Christ!
I wanted to take this opportunity as we approach Christmas to send a note of encouragement to you.
What a wonderful time of year it is as we celebrate the birth of our Lord and Savior, Jesus Christ! For centuries, lives have been changed one by one through the powerful grace and mercy He offers to those who will simply accept what He did on the cross over 2,000 years ago. Logged in Members, CLICK HERE to view full text!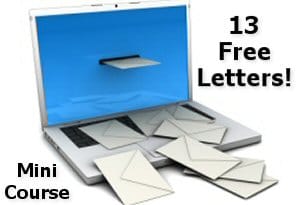 Free Mini Course from ChurchLetters.org!
Sign up here for a Free 13 Day Mini Course with great tips for communicating more effectively. Each week you will receive a free letter along with the tips. Feel free to modify and use all of them! (Opt-in confirmation required. If you don't see the email, be sure to check your spam settings).