Dear Friends,
It's almost time! Yes, it's almost time for our Annual Children's Christmas Program here at (NAME OF CHURCH). The program will be held this year on (DAY AND DATE) at (TIME) right here at the church!
What a wonderful time it is for the Children as they share the various words and songs that celebrate the birth of our Lord and Savior, Jesus Christ. Some of you might remember "way back" when you were part of the program and how much it meant to look out and see the place packed with people. Then, the extra thrill Logged in Members, CLICK HERE to view full text!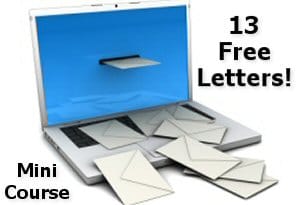 Free Mini Course from ChurchLetters.org!
Sign up here for a Free 13 Day Mini Course with great tips for communicating more effectively. Each week you will receive a free letter along with the tips. Feel free to modify and use all of them! (Opt-in confirmation required. If you don't see the email, be sure to check your spam settings).