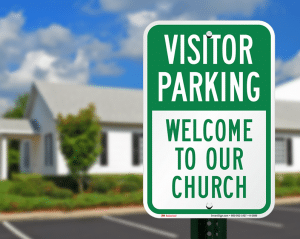 (Need signs like you see here? Click here to buy from Amazon – New Window opens)Greetings in Christ!
We are so thankful for each and every person who attends (NAME OF CHURCH), and we are looking forward to all God is going to do here in the weeks, months and years ahead!
Some of us have been coming here so long that it's entirely possible we forget the day we first attended, while others may remember it like it was only yesterday.
The fact is that the "first time" doing anything can be a bit difficult even for the most outgoing people. Whether a church is large or small, there is still those moments of trepidation about walking into the church for the first time.

Sorry, this content is for members only.
Already a member? Login below…